Parenting Support:
Parents love the fact that our program not only teaches their children about respect, self-discipline, and self-control, but it also supports parents' efforts at home! Before awarding a child a stripe for their progress in class our instructors will ask each parent how their child is behaving at home, in school, and in the community. Our students soon learn that being a martial artist means more than just kicking and punching in karate class! Our chief instructor also reviews your child's report card to check his or her progress. In addition, we offer parent-teacher conferences to discuss your child's progress not only in karate class, but in all areas of their life.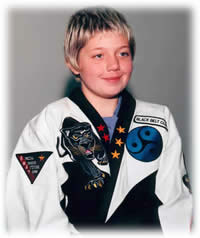 Gold Star Program:
The gold star program recognizes our students for practicing respect, self-discipline, and self-control in their everyday life. Whether it be better grades for the next term or making their bed every day for a month, we can help you to set goals with your child and award them a gold star for their accomplishments. Parents can write a note to our senior instructor detailing the reason that their child deserves a gold star. If approved, their instructor will present the student with a gold star that can be proudly displayed on their uniform.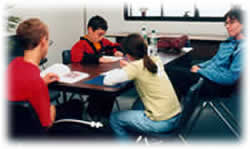 Homework Room:
Our martial arts community is dedicated to the improvement of your child as a whole. As you know, completing homework is an important part of their development. We are very proud to offer a room dedicated for use by our students to do their homework while they are not in karate class.
Free Tutoring: Completing homework is an important part of children's development and their practice of self-discipline. We offer a room dedicated for use by our students to do their homework while they are not in karate class. We also provide free tutoring services in our homework room for those students who need assistance. A sign-up sheet is located on IMA's community bulletin board where students can either sign up to tutor or to be tutored. Students will be matched with a tutor who suits his or her needs and a schedule is made between the two parties. IMA's tutoring program is a great opportunity for our older students to mentor their younger peers and be positive academic role models.
Free Play Area:
We are excited to offer a play area for children that will be supervised during our peak hours. Younger siblings now have their own play area to entertain themselves while their older siblings take class. This play area may also give our parents the opportunity to be a student in our martial arts classes while their children play in the supervised free play area!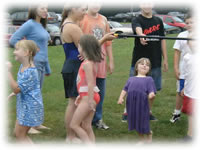 Social Events:
Throughout the year we host many social events involving our students and their families. Frequent social events give everyone the opportunity to spend social time with each other and to support our family atmosphere!
Karate Camps:
Integrity Martial Arts hosts periodic karate camps at our 5,000 square foot indoor facility during school holidays and vacations. These camps are open to IMA students and their friends or siblings who are age 6 and above. IMA's camps are structured around themes that include interactive karate classes and games. We also schedule down time for the kids to watch a movie or to play in our playroom. Integrity Martial Arts provides a morning snack and lunch for every participating student. Karate camps are advertised at least a month prior to the event on our community bulletin board and our website. Registration forms will be made available at our front desk prior to the camp. IMA's camps provide kids with something to look forward to during their school breaks and parents an affordable way to secure themselves a much needed break!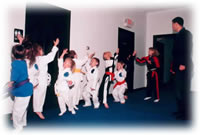 Birthday Parties:
Integrity Martial Arts offers birthday parties year round at our 5,000 square foot indoor facility in Enfield. We open the doors to the birthday child, his or her guests and family for a private birthday party. Integrity Martial Arts birthday parties make your child a karate star for the day. He or she will "teach" his or her friends with a sensei, captain special karate games and help lead a karate class. The following are details for IMA's birthday parties:
2 Hour Party – including karate class, games, presents and food
Sundays and possible Saturdays
Integrity Martial Arts provides:
A professional martial arts instructor to host the party
Party invitations
Goodie bags
Karate headbands
Decorations for the studio (streamers and balloons)
Party Set-Up and Clean-Up
Parents provide:
Any food you wish to serve* (ex: pizza, cake, & drink)
Any paper goods needed for food items
*If you order pizza for the party: we suggest that you have it delivered to the studio 45 minutes after the party begins. We also suggest juice boxes for the drink (to avoid spilling).
Parties are available only by reservation, so call IMA today or email us at contact@integritymartialarts.com to make your birthday party reservation!